What We Do

Hardscape Construction provides value engineering and design solutions for the most complex applications, including erosion control and watershed management, earth retention, slope stabilization and tall gravity walls.
Specializing in Large-Scale Commercial Retaining Walls
Hardscape Construction specializes in the design and construction of large-scale commercial segmental retaining walls. We combine over two decades of field experience and engineering solutions to provide the most economical and aesthetically pleasing earth retention systems available. When you face challenging soils or unrealistic site constraints, we have the equipment, technology and skilled construction professionals necessary to tackle the most complex earth retention scenarios. Segmental retaining walls provide a wide variety of aesthetically pleasing color and style options installed in a virtually unlimited number of customizable configurations.

Concrete Security Fences and Walls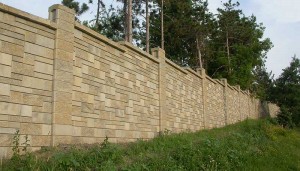 Hardscape Construction is more than just retaining walls, we install attractive, mortarless concrete fence systems that provide maintenance-free security and privacy and sound abatement. Constructed with high–strength concrete block units, steel reinforcement elements and concrete core-fill, these systems are unmatched by traditional wood, vinyl or metal systems. These systems are available in an endless variety of colors and patterns to complement any landscape.
Excavating and Grading Services
In addition to specializing in large-scale retaining wall and concrete fence construction, we also provide specialized excavation and grading services. We have an outstanding safety record and the latest equipment and tools to deliver exceptional results.
And More!
Unique Projects
Reconstruction Projects
Privacy Fences
Screen Walls
Sounds Walls
Lot Line Residential walls
Security Fences
Earth Retention Retaining Walls
Big Block Walls
Slope Stabilization Retaining Walls
Erosion Control
Watershed Management

Tall Gravity Walls
Concrete Fences
Amphitheaters
Entrance Monuments
High-Performance H-Pilings
Commercial Projects
Municipal Projects
Retail & Education Projects
Residential Development Projects
Excavation & Grading Services
And Much More!